My experiences in connection with sex tourism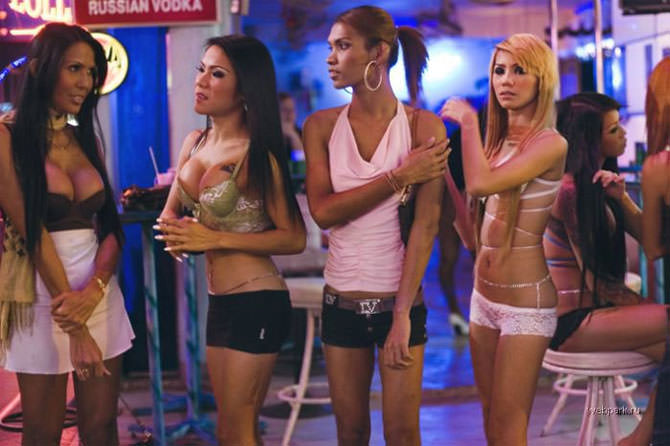 I think every male backpacker has had experiences in the field of sex tourism before. Maybe not always active, but seen or experienced on the sidelines. In some countries it might be easier not to pay attention or just to look away, but especially in Thailand and the Philippines it was omnipresent for me when I left in the evening!
Experiences with sex tourism in Brazil
I was in Brazil for one month (2 weeks Rio, 2 weeks Sao Paulo). Already after a few days I made my first acquaintance with sex tourism. After a couchsurfing meeting we went to a bar to celebrate something else. Already after a few minutes I was danced by a really pretty Latina. This is nothing special, because in South America the party culture is more open and a bit wilder.
But I was surprised that she flirted a bit more aggressively very fast. I knew that Europeans were popular with Latinas, but that's how extreme the flirting was again a bit suspicious for me. She wanted to go to the bar and have a drink. But if the whole thing happens in 10 minutes, then there can only be one logical conclusion for me. At some point I got it straight and said to her "no no no – sorry". I am sure that I escaped an enormously high drink bill. Afterwards, my host confirmed to me that there are a lot of prostitutes in the area. So I was lucky again.
Experiences with sex tourism in Colombia
Colombia is not only my favourite country in South America, it also has the prettiest women besides Venezuela and Brazil. The Colombian women have done it hard for me, but that's another story. In Colombian culture it is common for women to make themselves pretty. Often they even use a scalpel to have their breasts and buttocks made. This ideal of beauty naturally attracts many men all over the world and we are back on the subject.
In Colombia I have unfortunately or fortunately made no direct experience with sex tourism. But there were also a few bars and a few places that can be compared with a German line. But there are countless articles and online documentations about the business with love in Colombia. Especially the cam sex business is very well known there.
Experiences with sex tourism in Thailand
On a backpacker trip in Southeast Asia you can hardly avoid Thailand. It is and remains one of the most popular destinations for backpackers. Not only for backpackers, but also for package tourists and other vacationers who want to have a good time on the islands. In Bangkok, Phuket and above all Pattaya sex tourism is omnipresent. It is not even possible to hide it. If you don't go out in the evening and see the girls at every corner, then they accompany older men on the beach or offer massages with happy endings.
For me the experience was very special, but it will probably have happened thousands of times in Phuket or elsewhere in Thailand. We were a group of 5 men and on one occasion we went to a strip club, where a man at the entrance got an inflatable club to spank the girls with. Of course it's a matter of taste, but I assume that the girls who work there know about it and on the other hand want it. At least that's what it looked like!
I wasn't a big fan of it, but some of the ladies asked for it. Unfortunately, I also had to experience how a very drunken one took this beating thing a little too seriously. It was really unpleasant for me, but I didn't have to stop the guy from getting his ass in his pants either. Later, but then an absolute shock for me: We were on our way to another bar. It was something like an open bar area, where there are about 20-30 different bars on a large area. At almost every bar there were a few girls who were supposed to advertise their bar. Pretty much all were lightly dressed!
We walked along the path and 3 girls came up to us. After a few seconds one of the girls headed towards me. There were already before a few attempts to recruit us. There were smiles, flirts or the hand was taken and pulled to a bar, but what came, I never expected. The girl took my hand, stroked it over her breasts and pressed the hand against her crotch. I felt her warm labia and must have turned as red as a tomato (I'm sorry if I describe it that way, but it was so intense and formative that I want to reproduce it that way). I was a man to be or not, but I wasn't able to say anything, let alone defend myself against it.
I was paralyzed with shame. Of course nothing more happened, but even today I can remember this moment as if it had been yesterday. Later I had talked to a barmaid to find out what a prostitute costs here on the street. Of course there are different prices, but from the equivalent of 10 euros upwards you can find what you are looking for.
Experiences with sex tourism in the Philippines
I certainly wasn't in the worse corners. But also on Palawan (Rising Backpacking Star) I could make my experiences with the dirty business. I was in Puerto Princesa and of course wanted to test the nightlife. First I was in a bar with live music and good food and later I met another backpacker in a club. Already the club was strange, because there was an extra toilet for gays. I thought it was funny! Later I was informed where who normally goes for which business. But it should not be the topic here.
In the club there were only two kinds of women: They were prostitutes or ladyboys. After I had dozens of ladyboys' genitals rubbed against my thigh while dancing, I rather talked to the prostitutes… That was less intrusive for me. Alone that you have to choose like that?! Fortunately I got to know a super nice and above all intelligent girl. She studies languages and wants to become a tourist guide at some point. She also made no secret of her part-time job. At least she could tell me something about Palawan. Later we wanted to go to another club that she suggested.
On the way there the shock came when she confessed to me that she was not only selling her body but also a ladyboy. I thought I was starting to get a feel for recognising ladyboys, but that was far from it. But in the end it wasn't that bad, because there wouldn't have been anything going on anyway (privately I'm not the type for love for sale and ladyboys are completely out of question). But I learned a lot from her. About the society and the acceptance of Ladyboys. How to really recognize Ladyboys. How she gets her customers (mostly Americans xD) and how it all happens. Fascinating also, how she could swallow her Adam's apple for several minutes….
Conclusion of my experiences with sex tourism as a backpacker
Don't get me wrong. I did not search for these experiences in any case or it aspired to make these experiences, but it happened evenly in such a way! One notices quite fast how normal this is, therefore one should not hide from the topic! We live in an enlightened society where sex is absolutely no longer a taboo topic.
My opinion about sex tourism I have already announced in the last article. Nevertheless I would like to say again in summary that sex tourism has quite advantages. That does not outweigh the disadvantages and risks. As long as everything takes place on a voluntary and regulated basis, I support it. I would like to distance myself clearly from child prostitution, human trafficking, coercion, violence and exploitation!
Opinions of other travel bloggers and backpackers
I wanted to do a round-up post on the topic, where other travel bloggers and backpackers could share their opinions and discuss the topic. Unfortunately, there were only two people who participated. Me or the Backpacker-Reise project must be pretty unpopular *hahaha*. Has my problem with the travel blogger scene probably still not solved. I'll give it up soon – don't worry! From the one contribution already an own blogpost was published. Afterwards I would not like to forget to share Kate's opinion on the topic.
Sex Tourism – When Making Money With Love Will Be
Thailand, Brazil and the Philippines lead the list in sex tourism. We don't have to travel that far to feel it up close. Amsterdam is practically around the corner.
Round, fat, thin ladies pose in shop windows, there is something for every type. They wink at the people passing by, throw air kisses into the air – and sell their bodies. What do I think? They sell their souls.
You can hardly blame the tourists and locals who accept these offers – after all, the women in the shop window seem to volunteer for the sex games. Nobody knows the stories behind them so well. One may earn a little extra for her studies, the other has to feed her little daughter. And the Lord finances her livelihood and has fun with it. If nevertheless one plus one would always result in two…
To do tourism with sex means to sell one's body. And it harbours some risks. After all, sexually transmitted diseases are not 100% avoidable, as are rapes by the alleged buyers – who may not pay at the end of the day. Not to mention the psychological damage that each of these prostitutes suffers. They distinguish between love and sex, what should belong together – or at least should not be bought or sold.
As I walk through the streets of Amsterdam's red light district, seeing women stretching out and winking at every man with their bare breasts, a shiver runs down my spine. I'd rather have no money than earn my money that way.